Updated Settings window comes with Monosnap 4.0.15. To further expand the functionality, it was necessary to update Monosnap settings.
This guide contains the following sections:
How to find the settings window?
For Monosnap to run as smoothly as possible, in a way that's customized for your particular workflow, you need to set up your Settings to your liking.
In Monosnap, the settings are found in the main menu. In the bottom right of the screen, choose the Monosnap icon in the tray or press the Dropzone. Then, select Settings.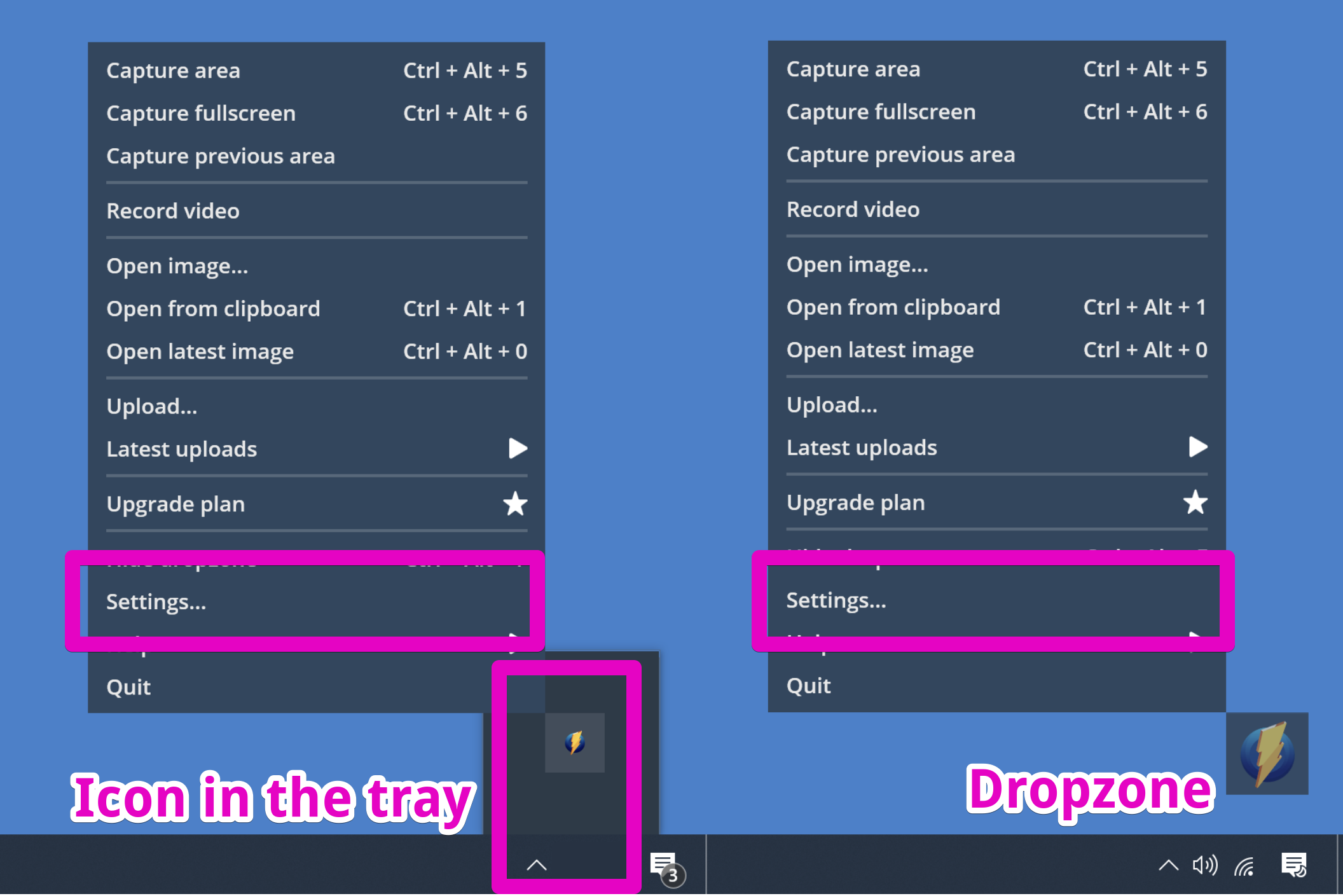 General
In this s
e

ction, you can set up the settings to customize the workflow.
🔽 After screenshot option allows to select action after capturing a screenshot:
▶️ Do nothing
▶️ Open Monosnap editor with a captured screenshot
▶️ Open external editor or an app with a captured screenshot.
📔 Tip: To select external editor, go to Settings > Editor and select an appropriate app for External editor option.
▶️ Save screenshot on the local disk.
📔 Tip: By default, a saving dialog opens after each screenshot. To avoid this action, you can specify a default folder for Autosaving option in Settings > Advanced.
▶️ Upload screenshot to the default cloud service
📔 Tip: Monosnap is the default service. To change the default storage service, go to Settings > Accounts and select the appropriate service with the ⭐ button.
▶️ Copy screenshot to clipboard


🔽 After upload allows selecting action after uploading the file.

✅ Open in browser opens uploaded file location in the default browser.
✅ Short links. To enable this option, sign in to the Monosnap account in Settings > Accounts.
✅ Launch at Windows startup enables Monosnap's auto-launch.
✅ Sound notification after upload enables audio signals after successful uploading
Advanced
Here you can find additional settings for more customization.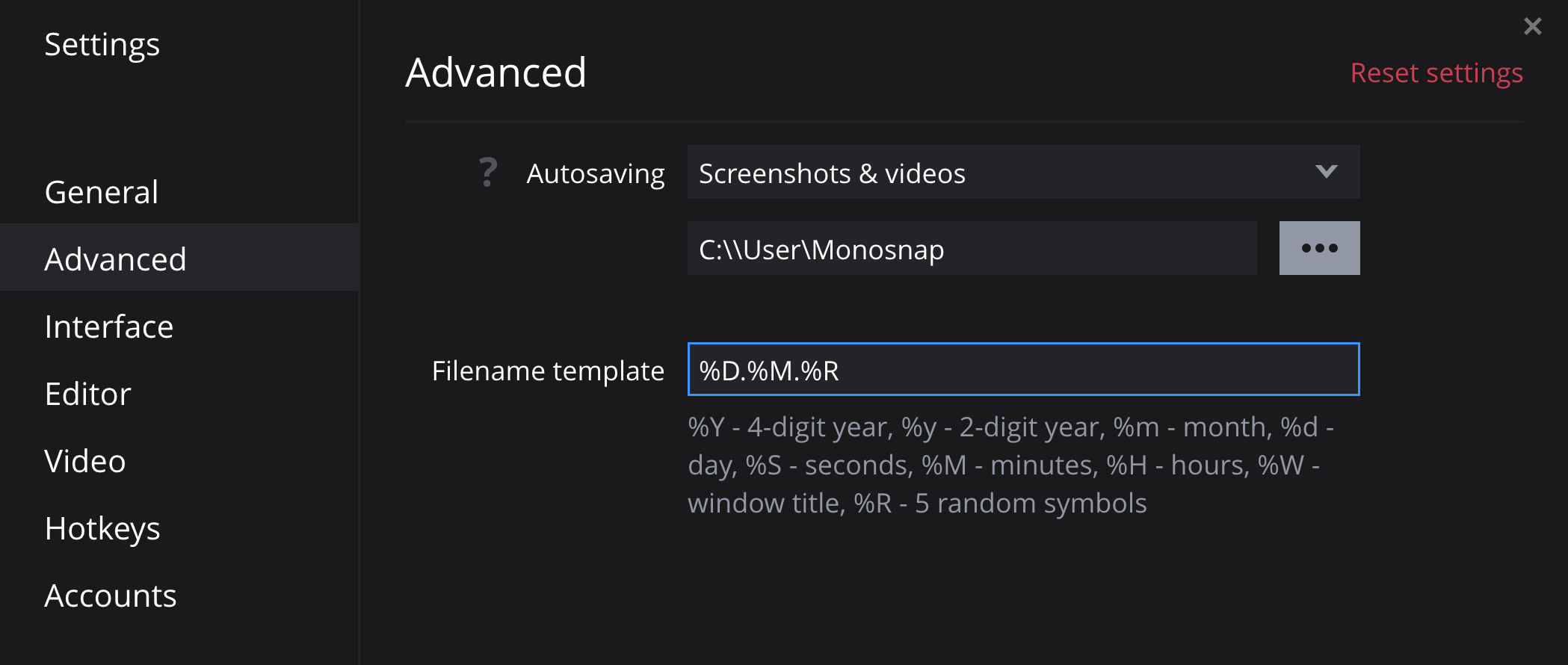 🔽 Autosaving automatically saves screenshots or/and videos to the specified folder.
- Select the right option in the combo box
- Select a folder for autosaves by clicking on the button with dots below
Autosaving for videos is available for Monosnap v. 4.14.0 and higher.
⚙️ Filename template sets up a template for naming.
⚠️ Reset all settings to defaults. All settings, including accounts, will be reset.
Interface
In this section, you can set up the behavior and appearance of the Monosnap.
Capture area allows to choose modes:
Default - a classic style with lines across the whole screen.
Quick mode works faster, especially on 4k monitors.
✅ Show hint with hotkeys for the Capture area tool.
✅ Show magnifier for the Capture area tool.
✅ Highlight by hover - highlighting a window on hover by Capture area tool.
🔽 Second launch - action on clicking on the icon on the Desktop after Monosnap launching.
Show notification with hints.
Start making cropped screenshot - show Capture Area tool.
Make fullscreen shot - take a fullscreen screenshot.
✅ Hide notifications about successful actions - hiding all notifications about successfully performed actions. This option helps a lot in case you enable auto-saving or auto-uploading options.
✅ Add to context menu allows adding upload to default service option to the context menu.
🔽 Show Dropzone - show box with Monosnap logo in the bottom right corner on the Desktop. Also, you can set up drag&drop action for the Dropzone:
Upload to the default service

Open editor
🔽 Language - interface language.
Editor
The Monosnap editor settings are here.
🔽 External Editor that is available in the Monosnap editor or used instead of it.
🔽 Default extension in the Monosnap Editor.
✅ Autosaving automatically saves images to the specified folder from the Monosnap editor without saving dialog.
Video
Settings for video recording now included in the Settings window. However, you still can open these settings from the video recording window.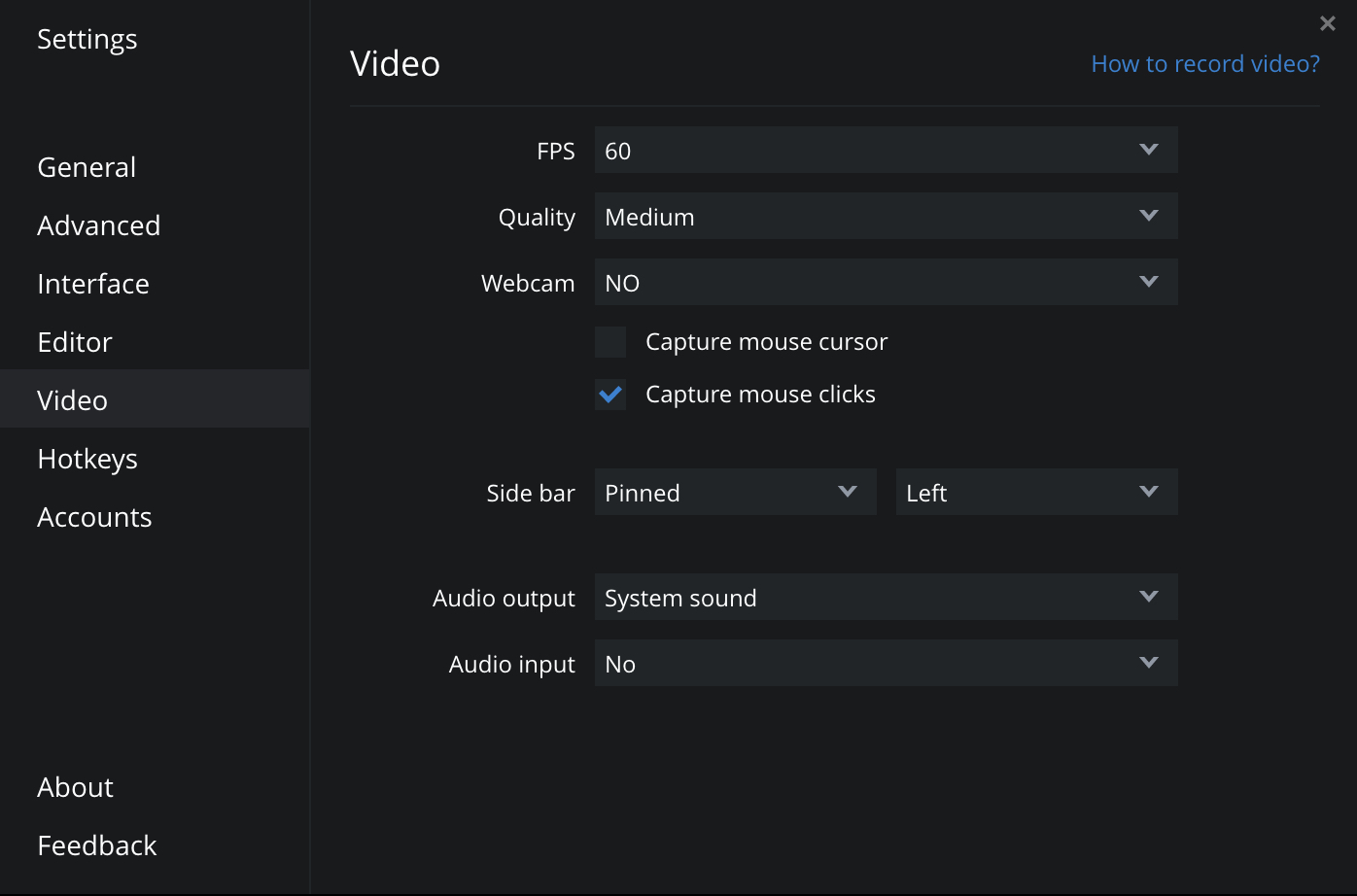 🔽 FPS - Frames per second is the frequency at which consecutive images called frames to appear on display.
🔽 Quality of the recorded video.
🔽 Webcam allows recording webcam and screen videos simultaneously.
✅ Capture mouse cursor during video recording.
✅ Capture mouse clicks during video recording.
🔽 The sidebar is a tool panel that allows us to stop/pause recording, on/off webcam during recording, and gives access to the drawing tools. You can set up the sidebar state and position. States:
Hidden — sidebar will be hidden during the recording. You can use hotkeys instead of the sidebar.
Floated — sidebar will hide and show by hover.
Pinned — sidebar will be fixed in the selected position during the recording.
✅ Audio Inputs for carrying audio signals allow selecting audio devices: system audio, external, or internal mics.


Hotkeys
Here you can set up all shortcuts to speed up and find hidden features.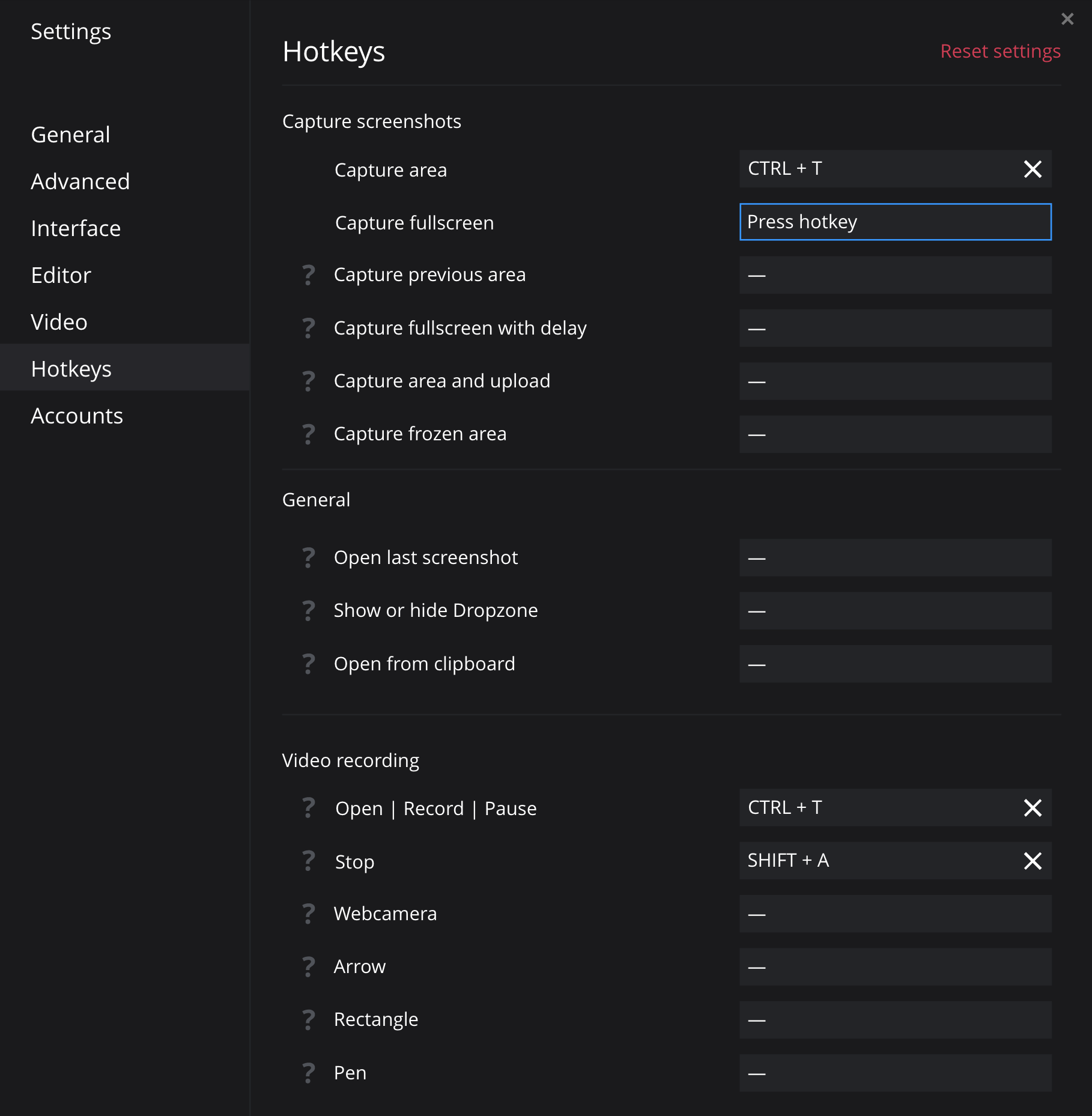 Hidden features list:
| | |
| --- | --- |
| Capture previous area | To repeat the previous capture saving the same size and placement |
| Capture fullscreen with delay | To run timer before capturing area |
| Capture area and upload | To select area and auto-upload to the default cloud storage |
| Capture frozen area | To freeze the screen before capturing the area |
| Open last screenshot | To open the latest captured screenshot in the Monosnap editor |
| Open from clipboard | To open an image from the clipboard in the Monosnap editor |
Learn more about hotkeys in this guide: Win: Hotkeys
Accounts
In this section, you can connect your Monosnap account or external cloud services. A full list of supported services, you can find in the Integrations section.
📔 Tip: Also, you can connect several accounts of one external service. For example, connect several FTPS account at once.
➕ To add the new account, press the Add Service button and select service in the popup. Then, enter login data to connect the new account.
⭐ Make default button sets this service by default. Also, you can use the star button for this purpose.
❌ Remove button removes this service and all its data from the list.
🧹 Clear all button helps to erase all filled data at once.
🔁 Test connection button helps to establish and verify the connection.
Feedback
Here you can leave your questions, requests or bug reports about Monosnap. To know more about bug reports, please check out our guide: How to report bugs effectively?
______________________
📥 Download Monosnap
💭 Contact sales to learn more about seamless integrations and security features
✉️ Questions, comments, suggestions? Contact us: support@monosnap.com